On Sunday night I was watching a new BBC2 programme called "Britain's Secret Seas". It was the first of 4 programmes and I knew it featured sharks so was watching it so see if it would be something suitable for my (shark-obsessed) young son to watch the next day. It was actually a really interesting programme and I found myself absorbed in the various stories surrounding Britain's coasts and seas.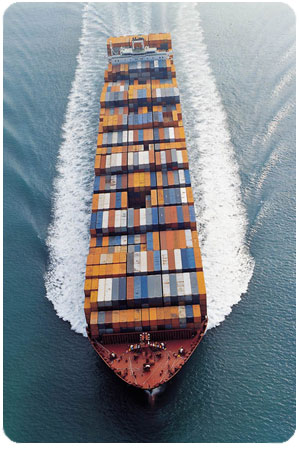 One part of the programme features Liverpool Docks and the huge and highly skilled operation to get large container ships into the narrow lock which was built facing up river to protect it from tidal surges. This means that for a large container ship to enter it, it requires the equivalent of a car's handbrake turn. No mean feat for a huge, heavy and slow moving vessel, and seeing it done is quite a sight to behold. (It's at 50 minutes into the show if you want to see it!)
It was today, when reading this article "Half of UK businesses ban Social Media at work" that I was reminded of this container ship.
As individuals many of us have dabbled with Social Media in some form for some time, whether that's a personal Facebook page, looking at YouTube videos, admiring pictures on Flickr, or perhaps following celebrities on Twitter. The jump for small businesses to go from personal use to deciding to use it for business is therefore one that can come quite naturally. The guidance required by businesses at this level therefore is more about the hows and whys, guidelines for which networks are appropriate, and looking at ways of using it most effectively in a short space of time.
Battening down the hatches
For larger businesses however it is a different story. Social Media first came onto many large businesses radar as somewhere their employees went to waste time, chatting and not doing any work! Meetings were had, decisions were made, and access to all Social Networks were blocked.
They then realised people were using their mobiles more and accessing social networks anyway. Cue a ban on mobile use at work.
Some companies even went to the trouble of drawing up policies ensuring that all staff were clear that use of Social Networks during working hours is not acceptable.
Changing Tides
But what's that, they say? Social Media can help business? We should be embracing Social Media to build our relationships with clients? We could win new business this way? Our employees are our best advocates (if educated correctly)? Our competitors are using Twitter to great success? People are talking about us online and we don't know…?
How are these large companies going to steer that big ship clearly headed in one direction, and handbrake turn it into a completely opposing direction against an unforgiving tide of their own causing….?
As the pilot of the 52,000 tonne container vessel knows after 5 1/2 years of training, it's no easy job and anyone who thinks they will just know how to do it is going to hit a lot of walls and boats along the way!
But, it's not impossible. Take stock, get trained, ensure you understand the benefits and the pitfalls, relate your learning to your business and industry, and take control of that helm. The opportunities of making that turn and facing the opposite way are worth it.