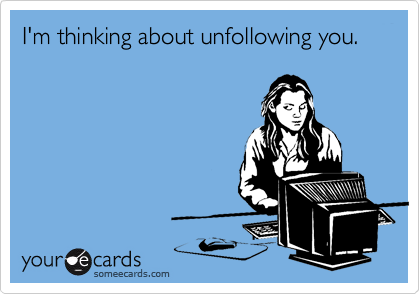 My blogs are often results of things I see around me, answers to questions I have been asked, or opportunities to share knowledge and opinion on areas of Social Media that people seem to struggle with.
Not long ago I wrote a post called "Is a Follow-back your right or should you earn it?" in response to a growing number of Tweeters declaring that they know who has unfollowed them, in a rather menacing manner, as if you should suddenly rush in and apologise that their timeline was no longer of value to you (although the irony is, if you had unfollowed them you wouldn't see their tweet!)
Today's post is in response to the ever-present Tweets requesting more followers, or asking that as you follow them on Twitter please could you like them on Facebook too.
Usually the reasons they state that you should follow them, if any are given at all, are:
Because I want to reach X number of followers
Because I need a certain number of Facebook likes to obtain a URL
You get the picture. Both of these are reasons that are of benefit to the poster but what about you or I? I am sure this type of post would get you an additional like or follow from your Gran, your best friend or perhaps even your most ardent fan (although presumably these are the people you won over first) but why would this tempt me or A.N.Other to add ourselves to your community?
Content Overload
The fact is, as human beings, we are bombarded with more content and more distraction than at any point in our lives. There are newspapers, phones, emails, books, magazines, social networks, family, friends, adverts, work, all clamouring for our undivided attention and the fact is, unless you stay at home with the computer and TV turned off, you will already be being swamped with more information than you can ever hope to digest.
So, when you recognise that this is the state that people are now in, ask yourself what you can add to this person's life by them liking your Facebook page or following you on Twitter?
What can you bring that will enhance their overwhelming online experience and add to their day? Once you've worked this out – tell them! How much more encouraged would you be to hit that all-important Like button on someone's Facebook page if their request was more like this:
Are you local to Bristol? Do you like Good Food at Great Prices! Join us on Facebook for daily deals exclusive to followers.
Join my photography Facebook page for a chance to share your photos with other fans & gain expert advice & critique.
All new Followers to my Twitter account today get access to my new e-book FOC. From tomorrow this will be selling at £10.00. Please RT.
Can you see the difference? If these pages are offering something that I'm interested in and that benefits me then they need say no more, it would be my pleasure to follow them and once you've got someone on board then make sure your content lives up to the promise and keeps them there.
One final point. Are you posting the same content to Twitter and Facebook? If you are asking people that follow you on one network to join you on another, please offer them something different. In this world of too much information if someone realises that by joining you on a second network they are reading the same content twice, any effort you put into getting them there will be wasted. They'll be gone like a shot! Of course it's harder to have two streams of relevant, up to date content that suits the etiquette of the network, and meets the needs of your audience, but if you want your following to grow, it's time and effort that really does need to be spent.
If you've got any questions or comments on this, please do post below, or if you're local to Bristol and would like to talk through your own on-line presence and how you can make sure you are giving your followers value, do get in touch. 1:1 sessions where we can talk through your business at your level, are surprisingly affordable and can help make sure that your time on-line is well spent.